Not too long ago, I wrote an article on the Beta release of Windows 7. Microsoft has moved on, and the build numbers have gone up. The official Release Candidate was released on May 5th, 2009 available to any and all users for download from Microsoft through July at the very least.
Changes since the Beta build 7000 aren't overly evident on the surface, though Microsoft has been taking the suggestions from the Beta into account. Notable changes that have been made are the linking Alt+Tab with Aero-Peek, which brings any application into focus while using Alt-Tab. The icons on the taskbar have been reduced by 24 to 39% meaning more of your programs will be able to pinned for quick access later. User Account Control (UAC) has been turned up by default to help protect the user from unwanted actions. Performance has also been improved, allowing for faster boot times and opening of the Start Menu.
Though not implemented directly in the Release Candidate, support for the disabling of Microsoft software will be added into the final release. This will allow for programs such as Windows Media Player and Internet Explorer to be disabled during installation. The ability to disable programs has been brought about by the suits against Microsoft by the EU, though many don't mind Microsoft not requiring their software on every install. This can be accomplished in the Release Candidate by going to Add or Remove Programs and Turn Windows Features On or Off, then selecting Internet Explorer 8 from the list.
I've upgraded once since the Beta before the Release Candidate, and I'm probably not picking up on changes since build 7000. New backgrounds were added with a total of, of course, 7 default themes. The "Send Feedback" was removed from all open windows, though this is just a minor change. Compatibility has been improved, so the only program I could find that didn't work in previous versions (Camtasia Studio) now works without issue.
The feature I'm excited about is XP Mode which has been introduced with the Release Candidate. Microsoft has been known for keeping legacy code in its operating systems so that it's large corporate user base doesn't have to change programs designed specifically for their needs. Unfortunately for the rest of us, the legacy code doesn't provide much unless you need to use old (any code that is based on lower than 32-bit) code, which isn't typically found in a modern program. The only thing that the older code provides are more potential holes that a potential hacker can exploit, along with the slowing down of the operating system as a whole. Unlike other operating system manufactures that have been willing to strip out old code in lieu of security and performance, Microsoft has been lagging behind.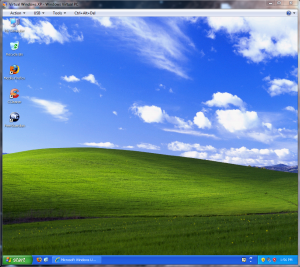 With Windows 7, Microsoft is finally making the turn for the greater good by removing old code support, and giving anyone with Windows 7 Professional, Enterprise, or Ultimate the chance to use a fully licensed version of Windows XP in a virtual environment. This alone is decent, but considering you have to use XP within Microsoft's Windows Virtual PC, the gesture is a bit less helpful. However, the great thing about the new version of Windows Virtual PC is the ability to create shortcuts within your host operating system to the programs in your virtual XP environment. The virtual environment is also preconfigured to have access to your physical hard drives and USB devices, so you can do nearly anything you could normally do in your host OS in the virtual environment. In the picture below, I am running Internet Explorer 6 in the XP virtual machine next to Internet Explorer 8 running in Windows 7. Quite the difference, eh?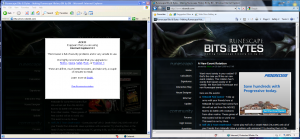 Windows 7 RC continues the Beta's legacy of shaping up to be one of the best Windows versions in quite some time. Though final release dates have not been set publicly, Acer has leaked on their website that they will be selling laptops preloaded with Windows 7 by mid October, though the general consensus is that Microsoft will try to have Windows 7 ready for the Back to School crowd in late August / early September. Either way, if you're planning on buying a new Windows based PC, or just planning on upgrading a current system, Windows 7 is the way to go.
If you want to test out the Release Canidate build of Windows 7 in either x86 or x64 format, check out the Windows 7 page at Microsoft. All you need is a free Windows Live account.