The Expansion Era
posted by
Shane
on 3rd July 2017, at 2:21am
RuneScape began its expansion era this month with the release of Menaphos. Menaphos is the city in the desert that resides next door to Sophanem. Menaphos is the complete opposite of Sophanem, or so it seems… That's where our Informer adventure begins this month. Wall to wall coverage of Menaphos.
We begin with Alex's article entitled Sun's Shining on a New Day. Alex talks about Menaphos from a graphical and humorous perspective and then delves into what makes Menaphos well Menaphos… A play through of Menaphos content isn't complete without a recap of the desert gods! Colton is working on a series covering the Desert Pantheon where you can Meet the Desert Pantheon. Look forward to part II coming soon. Menaphos also brought new combat options for players in the form of level 120 Slayer. Tanis offers an overview of 120 Slayer focusing in on realism and asking the question, Did Jagex Slay 120? Finally, we have Mr. Bistro with A Letter to the Angry Players which covers the inevitable plate of complaints that come with any large update.
This month we also had a guest article from Pyrnassius. Pyrnassius offers his opinion in MENAPHOS: The Good, The Bad, The Awesome… and The Very, Very Ugly. Pyrnassius covers Menaphos from the new expansion model, to the content within the city and what Jagex got wrong with this update. Give it a read, see if it jives with your opinion on Menaphos.
Before we move onto the shocker of a Skill of the Month we had I feel obliged to mention our other article, Make Apple Great Again: 2017 and Beyond. June is the month when Apple announces its software updates and changes to their platform for the future. I had a look at what was on offer this year and make an assessment based on where Apple has been and where they appear to be headed.
To coincide with the release of 120 Slayer we hosted a Slayer Skill of the Month. This month saw an opening lead from thelion777 that expanded. It remained a close 3 way race for the first 10 days of the month. After this it turned into a two way race with thelion777 and Tanis. For a while Pyrnassius took third place and then bang! Thieves kicked it into overdrive and engineered a 1st place finish in the last week of the month!
Here's a photo of the graph: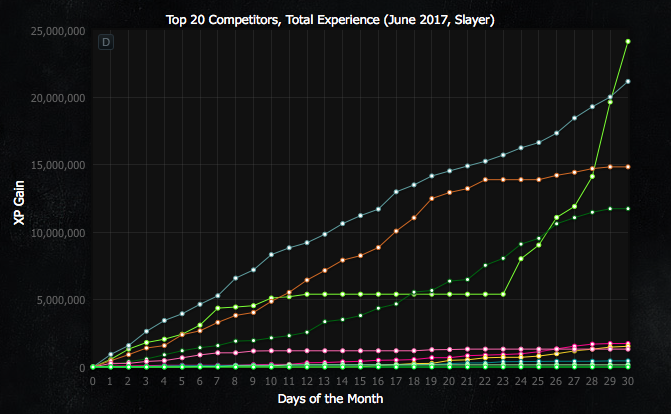 Finally, Thieves, here is your trophy:
We'll see you next month!
This article is filed under
FrontPage
. You can follow any responses to this entry through the
RSS 2.0
feed. You can discuss this article on
our forums
.