Deep Blue – Parkway Drive
posted by
Kenny
on 27th June 2010, at 4:00am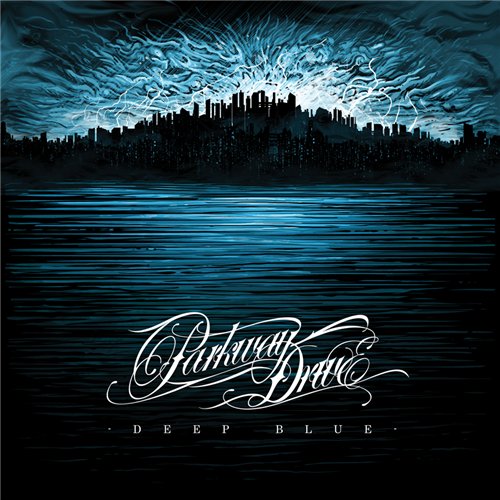 Deep Blue is the third album by Australian metalcore band Parkway Drive, renowned for their astonishingly brutal and energetic live performances. They struck the balance between melodic, serene guitar parts, vicious breakdowns and chugging riffs on their previous records Horizons and Killing with a Smile. It was without a doubt that Deep Blue was to be of a similar style, yet with their game upped and their musical nuts and bolts tightened to make them their most precise and technically perfect to date. Deep Blue most certainly did not fall short; in fact it pushed the boundaries of Parkway Drives brutality and technical ability to newfound levels.
Deep Blue opens with Samsara, a minute and a half of build up involving distant shouting and fiddling guitar which evolves into half volume screaming and a classic chugging riff.
Next comes Unrest, a classic Parkway Drive piece, with thrashed out drums, chugging guitar and guttural screaming which present themselves as the perfect metalcore composition, something Parkway Drive seem to be pioneers of.
Although I don't want to give too much away, songs to note include Deadweight, a superb demonstration of sheer power and breakneck speed which a metal song can be undertaken while still throwing in the slow, vicious breakdowns to really round off the song as a package.
Another song worthy of a few words is Alone, which probably features the most melodic piece of guitar on the album. It really slows things down – in a good way – really adding some texture to the album and proving that Parkway Drive are not just a one trick pony with just precise anger driven metal up their sleeves.
The final song I'd like to comment on in this brief review is Home Is for the Heartless, a song which binds more rock-driven distorted guitar with thrashed out drums and screams peppered with gang chants that really bring the song to life. According to the CD, this song features a guest appearance from Brett Gurewitz, the guitarist of Bad Religion. To me, it isn't immediately clear where he comes into the song, but I speculate he has something to do with the fiddly solo midway through, something not often seen on this album.
Parkway Drive have gone from seasoned pros to absolute masters of their genre in this album. The most notable feature is the drums, and this album for me puts drummer Ben Gordon amongst the best in the world in my eyes, a formidable sticksman and perhaps the driving force behind this band that could well be on the rise to worldwide stardom.
Deep Blue is out on 25th June in Australia, 28th June in Europe and 29th in US.