Torrenting
posted by
Panda200x
on 31st March 2007, at 9:24pm
Torrenting is a faster way of downloading large files. For example if you wanted to download a HD-Podcast, it would be too big to download directly from the server. Consider the bandwidth bill that poor podcasters would have if they hosted a 500mb file for thousands of people to download. It would be very inconvenient to have downloaded 497mb of that and find out your computer crashes or your connection cuts out. Having to download again (depending on your connection ;)) would be very annoying. If you are torrenting, you can pause your download and continue later. Torrenting is also useful for "home-based ('garage')" bands who want to get their music out to the world; I already know of a rock band who spreads their music through torrenting. In this article, we shall look at what torrenting is, what torrent clients are available, and where can we get our torrent files.
What is Torrenting?
Torrenting is an efficient way of spreading bandwidth among computers. It makes use of people's time as well, making sure the download continues if one person logs off. So basically, that's (my) view of torrenting.
Getting Started.
So how do we get started? Simple! We download a torrent client. There are several clients to choose from: PC, Mac, Unix, and more. In this article, I'm only going to look at PC ones for the fact I use a PC. However, many of the clients I will feature are cross-platform (they will work on different operating systems). I will also refer you to something called "port-forwarding" for those who have a router.
uTorrent
In my opinion, uTorrent is a fantastic application. The GUI is fairly simple using pictures and a box at the bottom giving you information such as your speed or just your general download. Before I had ever opened uTorrent for the first time, I had no knowledge of port-forwarding but after I had something which gave me a good boost for my downloading. uTorrent contains an RSS Downloader, which in effect is just like TiVo or something. RSS download essentially allows you to download updates, episodes or something without even going to the website (provided you have the RSS XML file ;)).
http://www.utorrent.com/
Azureus
This is the torrent client I have been using for the past couple of months. Azureus is developed in Java which (probably) makes it easy to port from its home OS. Azureus has 3 modes for users: Beginner, Intermediate and Advanced. Each mode caters for each kind of user Beginner has the option of just downloading torrents, Intermediate has the option of creating/hosting your own files and Advanced is in a whole other league than me. The GUI is very nice and is split into 2 parts the downloading part and the seeding part. Azureus doesn't 100% cater for port-forwarding except it does give you some information that you need to use for it. Azureus, unfortunately, is prone to memory leaks.
http://azureus.sourceforge.net/
BitComet
The first ever client I used. At first in my lesser technical days, I had no idea about the vast amount of information it stuck into my face such as the InfoHash and stuff like that. But if you focus onto the kb/s up and down, the estimated time and the current download you'll be fine. The GUI for BitComet is very well laid-out and is incredibly handy to
when you are downloading your files. BitComet is coded in C# but I am not sure if it's cross platform.
http://www.bitcomet.com/
Getting a Torrent
Now that we have a torrent client, we can now start to download. To start downloading, we need a torrent file from a website that hosts (and generally tracks) them. For this, I'm going to download a small program and I shall be using BitComet (although these are all very similar in how they work).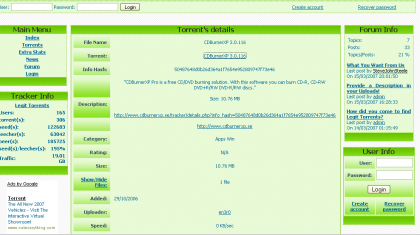 To get a torrent, we will go to the Legit Torrent website (http://www.legittorrents.info/) and I will now get the torrent (CD Burner XP). Now, to get a torrent it's very simple. Just go onto the website and search for it. When you find a good result, click on the link and click
"Download this Torrent,"
"Download," or even the software name could be the download. If you currently use Opera you can just click the link and Opera will use it's built in torrent client :D. But if you use Firefox or IE, you'll just have to use a client.
Now that we have our torrent, open the link your torrent client will prompt you about the download so it knows what files its downloading and where it's saving to. Just click "Ok" for the default settings and your torrent will begin downloading. Depending on what you are torrenting (An ISO, A Service Pack or even a software update), it could take some time for your download to finish. Now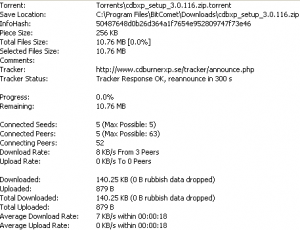 that the torrent is done you should be good and start seeding the torrent, sort of giving back to the community. This helps keep the torrent alive and takes some responsibility from the other seeders.
But once the download is finished you can use the file. If your seeding I recommend you don't modify the file in any way or else the file will be rejected (this includes ID3 Tags on songs).
Some more information:
http://en.wikipedia.org/wiki/BitTorrent (The Wikipedia page on torrenting)
http://www.legittorrents.info/ (A Legal torrent site)
http://www.bittorrent.com/ (The Website itself)
http://portforward.com/ (The Portforward Website)